Jets Sweep The Dolphins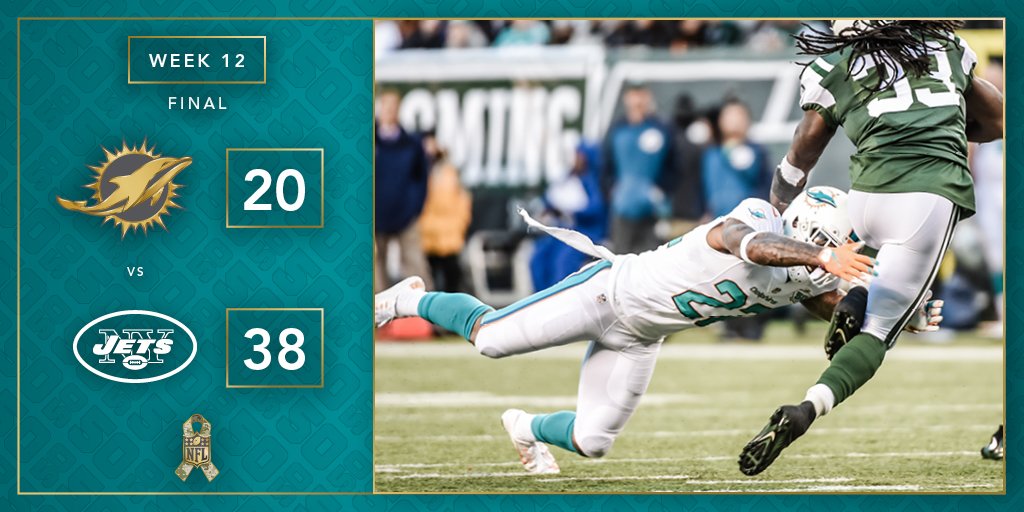 When the Miami Dolphins lose, they do it well. The New York Jets laid the hammer down on the Dolphins yet again in a 38-20 loss for Miami. The Dolphins fall to 0-5 in the AFC East and 4-7 overall. In typical fashion for the Dolphins the offense sputtered out of the gate and didn't have any sort of success until the third quarter. Anemic third downs, off target passes, penalty after penalty and injuries to several players were there rearing their ugly heads again. There is plenty of blame to go around Monday morning but the decisions by Bill Lazor has put this team in a position that gives them no chance at success. The Dolphins ran the ball 9 times and passed 58 times. It's hard for any team to overcome that kind of balance.
The defense was able to contain the Jets for about a quarter. Once the Jets figured out the mismatch of Brent Grimes covering Brandon Marshall and whomever Jamar Taylor was covering, there was no looking back. Sloppy tackling plagued the defense time after time. It was just another ugly chapter in the 2015 season for the Dolphins. There is not much to be optimistic about as the team heads back home to face the Baltimore Ravens this Sunday.
Dive on in to the Finheaven Forums and voice your opinion