Key Injuries Add To Miami's Woes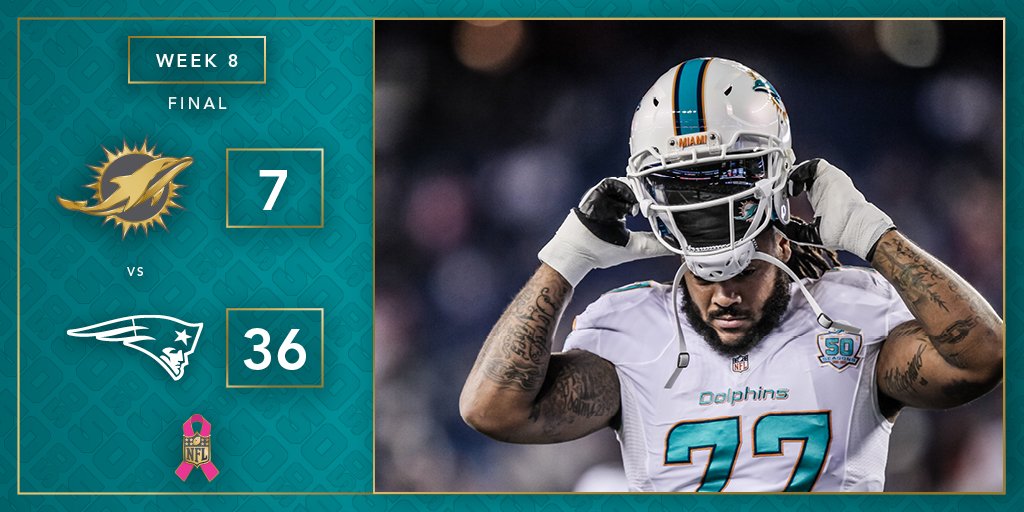 The ghost of Dolphins past reared it's ugly head in Miami's 36-7 loss to the New England Patriots. Coach Dan Campbell had three days to prepare, practice and travel to one of the toughest places to win in a prime time game. The results showed his team was not ready. Problems that have haunted the Dolphins early in the season reemerged Thursday night. There was a slow start, lack of running game, inefficient play calling, a lack of energy and numerous penalties. The Patriots have dominated their opponents all year long but that should be no excuse for the Dolphins. They know they have to play better if there is any hope at salvaging the season. The AFC and division losses are piling up for Miami, fortunately for the Dolphins there are a lot of struggling teams in the same boat.
Matters won't be any easier going forward due to key injuries sustained in the game. Defensive end Cameron Wake, who was having a pro bowl season, was lost for the season with an Achilles injury. Right tackle Ja'Wuan James suffered a toe injury and will miss 4-6 weeks. Rookie wide receiver Devante Parker was also carted off with a foot injury. There is a lot of work that needs to be done in the next 10 days for the Dolphins as they have another road trip ahead to face the Buffalo Bills. The season looks gloomy today but if the Dolphins can get back what works best for this team there may be a sliver of hope.
Dive on in to the Finheaven Forums and voice your opinion